On January 26, Anchor Rajdeep Sardesai tweeted that Delhi cops shot the farmer during tractor rally. Although later he retracted the tweet, but the India Today took him off-air for two weeks and cut his month-long salary. The Uttar Pradesh police has registered a case against seven persons including news anchor Rajdeep Sardesai. These people have been booked in Sector 20 police station in Noida. The readers would know how Sat-Bhakti takes a person out of complexities.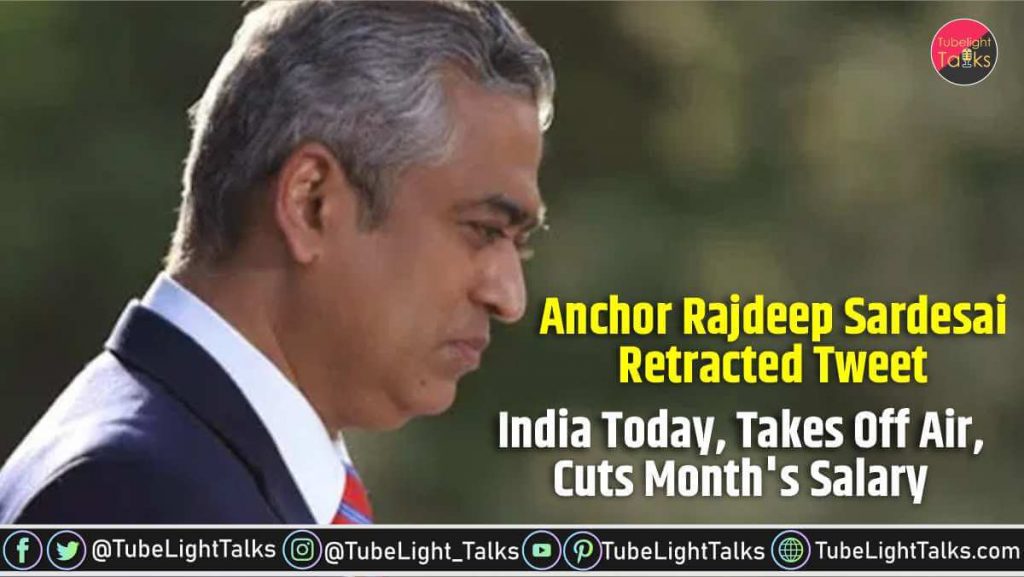 Anchor Rajdeep Sardesai Retracted Tweet: Highlights
India Today, Anchor Spread Fake News and punished by channel
Uttar Pradesh police has registered a case against news anchor Rajdeep Sardesai
The India Today took him off-air for two weeks and cut his month-long salary.
On January 26, Sardesai tweeted that Delhi cops shot the farmer during tractor rally, and he died
Later Rajdeep Sardesai retracted the tweet
A case is registered against Rajdeep at Sector 20 Noida Police Station
Naam Deeksha (Initiation) from Saint Rampal Ji can make free of duality
Rajdeep Sardesai remains in Controversy, Sparked a New One
On January 26, Rajdeep Sardesai aired and tweeted in hurry that a tractor operating farmer was shot by Delhi Police and the farmer died. When the public criticized for a wrongly aired news Rajdeep retracted his tweet. It was enough proof against him for his opponents to intensify criticism. The India Today Group deducted one month Salary and took him off-air for two weeks. A case is registered against Rajdeep at Sector 20 Noida Police Station.
What is the FIR Against Rajdeep Sardesai?
One Arpit Mishra has accused Rajdeep Sardesai and six others of spreading violence. Police has registered a case against 7 nominated and an unidentified complaint based on the complaint and started investigation. ADCP Ranvijay Singh said that based on the complaint, seven nominated and one unidentified have been booked under section 153a, 153b, 295a, 295a, 298,504,506, 505, 124a, 34, 120b and 66 IT Acts and investigation has been initiated.
What Happened that Day?
At the occasion of 72nd republic day on January 26, 2021, the protesting farmers against the three farm laws decided to perform a tractor rally on the road of national capital. The rally main operators were  widely from states of Punjab, Haryana, Uttar Pradesh and Uttarakhand including Darshan Pal, Gurnam Singh Chaduni and Rakesh Tikait. The Delhi Police and the farmer leaders had decided a route for three separate rallies.
यह भी पढ़ें: Kisan Andolan Latest News: राष्ट्रीय किसान मजदूर संघ का आंदोलन खत्म, किसान नेताओं पर केस दर्ज
The farmers did break the set rules. The clashes took place between the police, and protesters during the tractor march in which more than 300 Delhi Police personnel got injured. The police registered FIR against at least 37 farmer leaders and initiated investigation. Few farmers' unions leaders withdrew from the two-month-long protest due to an ugly agitation on Republic Day.
Rajdeep had held Delhi Police responsible for the Death         
The same day Rajdeep Sardesai tweeted:
"One person, 45-year-old Navneet killed allegedly in police firing at ITO. Farmers tell me: the 'sacrifice' will not go in vain." One protester claimed that the farmer was shot. 
Delhi Police released a Video in their support
Delhi Police claimed that the farmer had died in an accident while his tractor overturned. The Delhi Police released a video of a high-speed tractor that got uncontrolled and overturned.
Rajdeep retracted his Tweet
Within minutes Sardesai retracted his report and said, "While the farm protesters claim that the deceased Navneet Singh was shot at by Delhi police while on a tractor, this video clearly demonstrate that the overspeed tractor overturned while attempting to remove the police blockades. The farm protesters' allegations don't stand. Postmortem awaited." Rajdeep also placed his admiration for the Delhi Police and said they showed "great restraint" at ITO and Red Fort.
India Today channel Issued its Clarification
At 5:47 pm on January 26, without losing any time the India Today channel in live coverage said, "What we do know is that while the farm protesters that we met insist that the person who died named Navneet Singh was shot at, but the police has provided us with a video that shows very clearly that the tractor overturned."
BJP demanded Against Fake News
Many BJP leaders demanded an FIR be filed against Rajdeep Sardesai for spreading "fake news." Kapil Mishra charged him of provoking criticisms on the police and call for his arrest while Amit Malviya demanded Rajdeep sacking from the channel.
This World has a Rule sow what you Reap
The planet earth runs with the Karmik theory that describes face the consequence of all your acts. Rajdeep criticized the police and is facing several actions and pains. What Sardesai did not realize is that no independence of a country and any constitution on the planet can yield relief to its citizens. The permanent relief is achieved by attaining liberation from the clutches of hidden conspirator Kaal Brahm.
How to Achieve Liberation?
Know the Eternal Truth as uttered by the Supreme God Kavirdev or Kabir Saheb in the Sukshma Veda. The same knowledge is described by the enlightened Saint Rampal Ji Maharaj in the sacred book The Way of Living. Rajdeep and many other intellectual should come in the refuge of Satguru Rampal Ji Maharaj to unfold the truth and to adopt the path of Truth.
How to Adopt Sat-Bhakti?
It is very simple, contact any Naamdaan Centre any where in the world. Contact details can be found out in the https://www.jagatgururampalji.org. Take Naam Diksha (Initiation), practice it, follow all rules set by the Satguru. It is sure that all sin deeds will abolish, and the devotee will achieve salvation to reach the Eternal Abode Satlok. Satlok is a divine place where all pious souls live together with the Almighty Supreme Father Kabir Saheb. This is the place where the duality is absent. There is no death, no old age, no sorrows, no other complexes.